Textile Machines

HCH has been working with the textile industry for more than 20 years and developing the bearing always together with the customers. HCH bearings perform valuable services in this industry every day. We can offer you a comprehensive product line of precision rolling bearings for textile machines for the reliable support of rotating. What is more, HCH offers a variety of customized solutions that are intended to ensure production efficiency and machine reliability while taking into consideration the quality, cost and environmental concerns of the industry.
Modern textiles, yarn and fabric can be found in retail, boutiques and department stores or in the mail order business. However, hardly anyone is aware of the technological accomplishments that are achieved every day in spinning, weaving, refining and processing cotton or synthetic fiber.
For textile industry, high speed is critical through the whole production process, especially during spinning, the rotating speed can reach 18,000 rpm, or even more than 20, 000 rpm and the machines are usually in a non-stop working condition - 24 hours per day and 30 days per month.
HCH bearings for textile machinery
There can be no doubt that the right bearing components are a crucial cost factor. High vibration levels increase energy consumption and can cause premature equipment failure and costly maintenance, often including unplanned downtime and loss of production. For bearings in textile machines, "right" means low friction, high precision, clearance free, as easy to mount as possible, low maintenance, long product life, etc. And for these requirements you are at the right place with HCH. HCH products and systematic solutions considerably increase machine power, whilst simultaneously keeping costs down in spinning preparation, thread production, creating surfaces, finishes and in the manufacture of ready-to-wear clothing.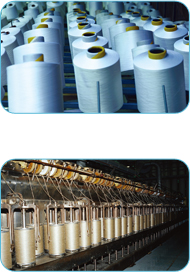 HCH develops and manufactures high-precision bearings for a textile machine moves. In doing so, we pay particular attention to maximum operating safety and low operating costs. Reliable in operation, our rolling bearings increase cost-effectiveness and offer compact system designs.