Engine
Engine is the most demanding part from performance for motorcycles in respect to high power and speed conditions, reliability and long service life. The special feature of engine includes easy installation, high fuel efficiency, designed for high loads, durable, low-noise and cost-effective. HCH has developed numerous engine solutions in cooperation with our customers' engine design specialists. We offer customized solutions based on low friction bearings which can perform in severe operating conditions like: contamination condition, poor lubrication, and high temperature. During operation, the ball bearings are quiet and easy to maintain.
Crankshaft and camshaft
The crankshaft and camshaft are most important parts of the engine to achieve certain level of performance. The crankshaft runs at low friction in maintenance-free ball bearings. Crankshaft support bearing takes all the pressure generated by the engine power stroke. Camshaft manages the valves' operations with high accuracy supported by HCH bearings. The main technical demands for the crankshaft and camshaft bearings in motorcycle applications are:
> Crankshaft accurate guidance resulting from limited radial and axial clearance value
> Heat transfer resistance from engine combustion chambers
> Protection to support engine oil solid and chemical contaminants
> Long service life in terms of rolling contact fatigue resistance
> Structural fatigue resistance due to housing deformation.

HCH bearings for crankshaft and camshaft
HCH's strong commitment for a sustainable world in terms of less energy consumption, and HCH's contribution to the design's accuracy and the precise product customization make possible the positive net result of industrial activity and individual savings for the end user. HCH crankshaft and camshaft bearings are made from high quality bearing material which gives a good performance in hard operating conditions. The special heat treatments for the rings provide better dimensional stability at higher operating temperature and contamination level.
For sealed bearings, sealing perfection in terms of improvement on lubrication preservation and dirt prevention optimizes the operation cost of the machine which has a direct impact on maintenance cost reduction and long service life. HCH has developed the seal lip design with new sealing standard and improves sealing properties like: low friction, speed ability, grease retention, dust exclusion, long service life and static and dynamic high pressure water exclusion.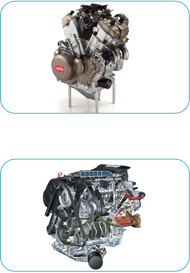 By an accurate component selection, a correct assembly process and the right use, HCH can assure that the quality standards give a tangible added value to the Customer. HCH is prepared to face the challenge of obtaining a longer service life as well as the Customer and market's requests.