Unit Conveyors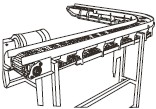 Unit conveyors are conveyor systems, often modular, used to transport parts, boxes, and other individual pieces or assemblies around a warehouse, factory or other facilities. They are most often indoors and are relatively slow moving, so speed and operating temperatures are typically not factors in bearing selection. Total rolling resistance (friction), bearing noise, maintenance requirements and personnel safety are more often the features considered when choosing bearings for unit conveyors.
Unit conveyors are also getting progressively more "high tech" with needs for precision speed control and placement of the items being conveyed and integration of weighing and tracking systems into the equipment.
In assembly system, unit conveyor makes production more efficient, rapid and safer. All conveyors in the range are modular in design which together with the extensive choice of ancillary conveyor equipment enables the user to create a tailor made conveyor system to suit their own specific requirements.
HCH continuously provides unique bearing application knowledge. For unit conveyors, this results in a wide range of safe and reliable solutions, all aiming to reduce overall costs and meet new environmental demands.
HCH bearings for unit conveyors
For unit conveyor equipment manufacturers, the stability and maintenance reduction are considered to be the most important since they can save cost. The unit conveyors are usually running continuously with low speed, so reliability with low vibration is critical. Therefore, naturally, HCH's solutions for the converter process focus on performance and operational reliability.
HCH purchases clean and homogenous steel with an absolute minimum number of inclusions from the world top-level steel manufacturer. To maximize the benefits of this improved steel, HCH developed new heat treatment procedures. These new procedures further improved the wear resistance of HCH's high quality bearings.
Moreover, aiming at total cost-efficiency and increased productivity, HCH has developed more efficient bearing designs and arrangements as well as improved sealing and lubrication systems. Try a quiet running, low friction and bearing requiring virtually no maintenance in your unit conveyor!

Unit conveyors are expected to work smoothly and reliably, and costly downtime should be kept to a minimum. Proper bearing selection, lubrication, and maintenance are key factors in maximizing the service life of the bearings.