Transmission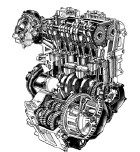 Drivers of light and heavy motorcycles take durable components with high fuel economy for granted. Hidden from sight and totally reliable, rolling bearings play a decisive role. Lownoise, hi-speed gear bearing supported with lightweight, plastic cages increase the life of the transmission since they minimize the risk of false brinelling. The market performance expectations for motorcycles' transmissions are:
> Low transmission losses
> Low noise and vibration
> Long service life
> Trouble free operation in all working conditions

HCH bearings for transmission
Developing and manufacturing lightweight and space-saving components is one of HCH's core areas of expertise. For over 30 years in this area, for example, we have produced rolling bearings with economical cold-formed bearing rings. We develop high-precision components with the lowest movable mass, which can economically be produced in volume.
HCH optimized bearings for the transmission applications meet the customers' specific requirements by controlling radial clearance, special surface treatments and sealing aspects. HCH deep groove ball bearings for transmission applications offer:
> Customized bearing solutions
> Bearings for low noise and vibration.
> Thin section bearings for compactness
> Correct selection methods for low friction and reduced transmission losses
> Advanced heat treatment for better wear resistance and dimensional stability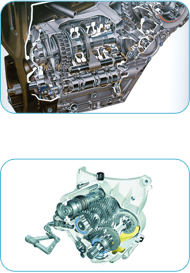 HCH provides customized bearing designs for the specific motorcycle applications by optimizing external dimensions, load carrying capacity, internal geometry, cage design, and seal design.