Industrial Pumps

Industrial pumps often operate under harsh and remote conditions with demanding duty cycles. The operating difficulties for the bearing arrangements may result in reduced uptime, performance and service life. For pumps that handle chemical fluid handling process, for instance, in the chemical industry and pulp & paper processes, design engineers and pump owners face a multitude of challenges. Crucial requirements include the ability to comply with industry standards and legislation and to improve energy efficiency. The problem is also faced by pumps that doing mineral fluid handling process, for instance, slurry pumping in mines, sub sea applications or coolant systems. To address these challenges, besides offering the high quality and reliable bearings for these demands, HCH also can help analyze operating conditions and select the appropriate bearing solutions to ensure high reliability, increased efficiency and extended service life.
For industrial pumps, other critical attention should be paid to the safety and environmental issues. Industry and safety standards, as well as government and environmental legislation are becoming more stringent day by day. Industrial pumping systems are the vascular apparatus of several industry processes where hazardous materials such as flammable hydrocarbons, toxic chemicals and thermally reactive chemicals are constantly moved. Any leakage of a material in the pumps could represent a serious risk for workers and for the environment. Through advanced material and manufacturing technology and application knowledge, HCH contributeS safe and high reliable bearings for industrial pump manufacturers to reach working and safety requirement. All bearings produced by HCH conform to RoHS directive and have passed SGS testing, so you can use them with full confidence.
HCH bearings for industrial pumps
To meet the challenges of industrial pump applications, HCH has developed a variety of deep groove ball bearings and tapered roller bearings. These bearings are engineered to withstand heavy radial loads, perform longer and more efficiently, operate smoother with less noise and vibration, and last longer for maximum productivity and minimal downtime.
HCH provides bearings with following characteristics
:
> Noise free operation
> Superior heat, chemical, and wear resistance
> Increased dent resistance
> Improved lubrication performance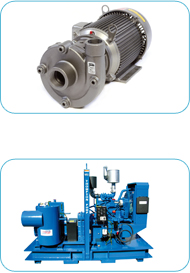 Our application engineering experts can help you design rolling bearings quickly but carefully. It takes a lot of experience to realize reliable and cost effective bearings for industrial pumps, taking into account all operating conditions.