Geared Motors

Manufactured in relatively high volumes, geared motors are designed to meet specific multipurpose demands, in applications like material handling, packaging machines and automation. Fierce competition in a global marketplace means that manufacturers must find ways to achieve more costeffective design and production processes, while continuing to improve technical performance. Designing a more competitive geared motor is a challenging task. Demands on bearing arrangements typically include high speeds under combined loads on the input shaft and relatively heavy radial loads on the intermediate shaft. Equally important, you can optimize performance by increasing torque, decreasing heat and noise levels.
HCH has the unique capability to offer high-level engineering capabilities and high performance products. HCH offers a complete range of high performance bearings optimally suited for geared motors: deep groove ball bearings and tapered roller bearings. Working together with HCH, you can achieve the enhanced performance you are looking for by increasing torque and decreasing both heat generation and noise levels.
HCH bearings for gear motors
To meet our customers' strict demand for the bearings in geared motors, HCH provides bearings with following characteristics:
> Improved bearing internal sealing structure (for RS and 2RS type)
> Long-life high performance applied ultra clean bearing ma terial
> Low friction with precise bearing manufacturing process
> Optimized clearance for customized unique gear design
Oil leakage must be absolutely avoided in geared motors. This is a growing challenge since increasingly aggressive lubricants are being introduced, threatening reliable sealing performance. To meet the performance challenges, for sealed bearings, HCH has provided a variety of optimized bearing internal structure to prevent oil emission and dust invasion. Moreover, working with HCH, specific technical suggestions can be available from HCH expertise throughout your design project. For example, excellent external sealing structure to increase transmitted torque and decrease heat generation, or the lubricant selection to better oil compatibility.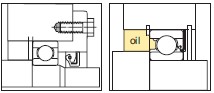 Note:
When the oil seal and the bearing are in very close proximity, internal bearing clearances are sometimes too small to accommodate the additional heat generated by friction between the seal and shaft. Internal bearing clearances must also be selected with caution.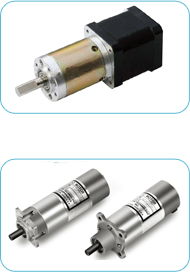 Together, we can help increase torque or downsize, double the service life, aim for 100% operational reliability and improve energy efficiency.