Bicycles
HCH has put its expertise at the service of bike market to satisfy every bikers needs from racing to everyday fun. 5 years ago, cooperating with famous bicycle producer LOOKCYCLE, we have developed extreme thin series ball bearings for the bottom bracket unit of bicycles. By now this has become a standard feature in almost all high quality bikes. After taking a close look into the biker's demands and wishes of today, we found plenty of room for improving the reliability, durability and all-round-performance of this most critical part of any bicycle. Currently, HCH offers an absolutely unique solution for mountain, road and trekking bikers that ask for a truly reliable BB-set.
Mountain bike
failures. possible about forget and like you wherever ride to feeling good security gives It impacts. of kinds different from survive can that bearings ball series thin variety a offering are HCH early destruction lead which forces, loads high withstand have bikes the so, doing When limits. without active being fun always is bikers mountain nature The>
Road bike
Road cycling is a passion, which is shared by many bikers across the world. They love to spend hours on their bikes by covering many kilometers in highest possible speed. It is vital for those that the bike is light and functions perfectly. We have put a lot of efforts to design light but reliable ball bearings for BB, which nevertheless fulfills these needs for many years.
HCH bearings for bicycles
HCH thin series bearings and other miniature bearings are usually applied in the bicycles. At the same time, it allows for great freedom in designing both optimized cranks and bottom bracket units. The bearings are made from high quality chromium steel with the specific grease applied. Especially in road bikes, many bikers rely on light and convenient packing way. HCH developed extreme thin series ball bearings to satisfy the biker's light, easy for carrying requirement. In such kind of bearings, cage is also specially designed with crown shape.
Our goal is to be recognized as a leader in bearing solutions for performance of bicycles. By understanding that the bearing performance is part of a complex system, HCH can offer the competitive advantage you need in sealing, lubrication, and material to a variety of bearing types.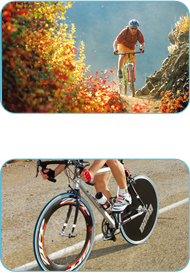 Our range offers maximum benefits to motorcycle manufacturers and their customers, including an extended operating life of the bicycles thanks to highly-developed and weight-optimized bearings. We support our customers with environmentally- friendly products and offer them perfection by optimizing costs, performance and quality in an integrated approach.