DIY Power Tools
The "Do It Yourself" market asks for reliability, economy and easy handling (low weight). The market for cordless products continues to grow with users looking for tools that can offer low weight for ease of handling and high power output combined with low power loss to optimize performance.The environment for DIY power tools is highly contaminated with dust etc. Hence, it is necessary to ensure good contamination protection.

DIY drills


The drill family covers standard drills, hammer drills, impact drivers and wrenches. Screwdrivers could also be included. Drills were the first tools to be marketed in the cordless revolution.

DIY ang

le grinders


This type of power tool is very versatile and can be used for polishing, burnishing, removing rust and deburring. The bearing arrangement and running conditions depend on the location within the tool.within the tool.

Hand saws


A wide variety of designs exist including reciprocating saws, circular saws, jig saws, miter saws, table saws, scroll saws and band saws, to name a few. Reciprocating, circular and jig saws are included in hand saws.
HCH bearings for DIY electric power tools
HCH deep groove ball bearings are normally used to support the armature and output shafts. They can be fitted with metal shields or light contact rubber seals (dependant upon dust exclusion properties required) to satisfy high speed and friction torque requirements. Grease is selected to give good performance at temperatures in the range -30/+130 °C and give good performance with low leakage under high vibration conditions. Internal radial clearance will depend on the fitting tolerances required.
HCH bearings give improved service life due to:
> Extended grease life
> Good performance in air-streams and condensation
> High wear resistance against particulate contamination (sand, pigments, abrasives, steel, iron oxides etc.)
> Resistance to electric current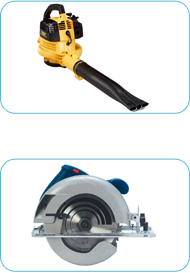 To serve the best interests of DIY electrical power tools industry, we have tailored our resources to meet your needs, so that your objectives become our objectives. To help you develop new products more quickly, we have introduced simultaneous engineering to give you immediate and open access to our process, product development and applications expertise.