Copy Machines & Printers
Copy machine manufacturers are driven by consumer needs for increased efficiency, multifunction and value for money devices. To meet this challenge, producers have looked at ways to:
> Reduce noise levels
> Environmental
> Maintenance free
> Cost reduction
In order to concentrate many different functions in a small space, HCH has been providing products that save space and are easy to maintain. These are made possible by the relation of key technology that helps us to realize highly reliable products.
HCH bearings for copy machines
Deep groove ball bearings, which are designed to meet strict precision standards, are mounted to support the copy machine shafts. Typically the bearings have metal shields. The precision of a ball bearing is determined by several factors, including the raceway roundness of the inner and outer rings, the sphericity of the balls, the tolerance of the balls and the quality of the raw materials used in each of the bearing's parts. Improving precision demands uncompromising strictness on all counts. Building on expertise amassed over 30 years, HCH has developed high-precision technologies and efficient plant-line layouts, enabling it to produce all parts for its bearings in-house and to aim constantly for higher levels of precision.
Series 67 are designed to be thinner than those of Series 68. Both open and noncontact sealed models are available. Furthermore, shield models (ZZ) are compatible with bores of 10, 12, 15, and 17. The dimensional accuracy and rotating accuracy meet JIS class 0 standards. Open models have seal grooves on their outer rings (except for the 6700). The inner rings do not have seal grooves.
● Data of the mini-deep groove ball bearing under no load
Tolerance in μm.
Clearance Code

MC1

MC2

MC3

Clearance
min
max
min
max
min
max
0
5
3
8
5
10
Clearance Code
MC4
MC5
MC6
Clearance
min
max
min
max
min
max
8
13
14
21
21
29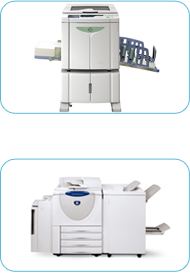 HCH deep groove ball bearings provide rotary motion of the copy machines and multi-function printers. The HCH deep groove ball bearings are highly heat resistant and have a long rating life. We offer you thin-wall bearings to meet your requirement for more compact design.