Material Handling

Bearings in material handling are exposed to a number of different heavy-load environments-in addition to dirt, mud, rain and dust when used in outdoor applications. HCH medium size deep groove ball bearings and tapered roller bearings keep construction and mining machineries in production longer with less downtime. HCH products for these applications overcome contamination, debris, good resistance to temperature change, operate in poorly lubricated environments, and keep performing even with heavy loads at ultra-low speeds.
Han

d trucks, pallet jacks and walkies



Hand trucks, pallet jacks and walkies operate in highly diverse environments with varying levels of operator use/abuse. They are subject to a lot of ramming and pushing. Bearings, particularly in the mast area and wheels must be able to withstand the resulting shock loads.

Forklift trucks



Forklift trucks used in the warehouse environment are exposed to varying loads under changing environmen- tal conditions. Bearings must be able to withstand cold temperatures (-40 °C) when equipment is used to trans- port materials in and out of freezers. And, they must be able to perform properly upon returning to warmer temperatures. In addition, forklifts typically operating in a highly abusive environment where the mast, in particular, are subjected to a lot of ramming and pushing. Therefore, the ability to withstand heavy shock loads is paramount.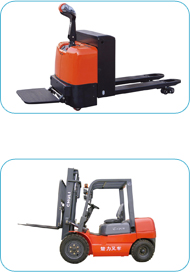 HCH bearings are used in the mast and bracket sections of material handling. These bearings rotate in constant contact with the masts under heavy load while the mast and bracket move upward and downward. HCH bearings are with enough compression strength to prevent wear of the masts.