Wheels
In wheel application, ball bearings with integrated seals that have been lubricated for life offer shock resistance and smooth operation. Their low friction and low wear also help to save fuel consumption. Low-friction ball bearings (with integrated seal as an optional extra), manufactured with the highest precision, are designed for the highest loads. During operation, the ball bearings are required to be stable and easy to maintain.
Lubrication humidity or oil leakage on a motorbike are synonymous of low cost components or extremely wrong use. This affects the brand's image and robustness. No HCH wheel bearing failure under severe operating conditions like:
> Wet and dry contaminated environment
> Speed and temperature increased
> Poor maintenance
> Heavy axial and radial loads
> Compact size and light weight
HCH bearing For wheel
HCH has developed a wide range of wheel bearings and wheel bearing sealing solutions for all kinds of motorcycle applications like mopeds, scooters, light and heavy motor cycles, off road and racing bikes to satisfy today's motorcycle market performance expectations like:
> Low friction
> Stiff rotary motion guidance
> Long service life
> Vibration free braking
No news about operation is the best news for a business and customer satisfaction point of view. No operation failure could be considered as a standard, but this is the result of the well done job more than a simple matter of chance. As for different motorcycles, we all have optimized choices:
> HCH enhanced 2RS type seal leads the industry in protection from contaminants.
> HCH 2RZ type bearings with non-contacted seals keep contaminates out of the bearings.
> HCH nylon cage is a glass filled nylon that performs better in the oil less conditions.
> HCH optimized grease is a high performance, wide temperature range synthetic with special rust inhibitor additives.
> HCH optimized clearance is suggested to meet customers' specific application.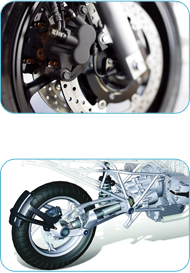 Motorbike end users look for riding with satisfaction without any unexpected interruptions and for a long use in between maintenance service programs. By supplying confidence HCH can reach customer and the market prestige for bearing evaluated from a cost effective view instead of simply cost point of view.