Industrial Power Tools
Industrial drills
The environment for industrial drills is contaminated with dust etc. Hence the need to ensure good contamination protection. In heavy duty professional hammer drills, the electric motor is usually mounted vertically and gives the motion to the spindle shaft through a series of gears.

Machinery saws
Table saws, scroll saws and band saws tend to be used by professional craftsmen. The critical usage parameters should be reliable as well as the precision of the cut. Important issues are therefore dust protection capability and resistance to heavy loads and misalignment.
Industrial angle grinders
The angle grinder consists of an electric motor connected through a pinion gear to an output spindle where the grinding wheel is mounted. This type of power tool is very versatile and can be used for polishing, burnishing, removing rust and deburring.

HCH
bearings for industrial power tools
For industrial power tools, HCH can offer bearings with characteristics of dust prevention and higher speed. The deep groove ball bearings used are usually fitted with contact rubber seals, which combine low friction with good dust exclusion properties. To ensure good performance at high speed, special greases are available in HCH that perform well at high speed and have low leakage characteristics. The grease also has to be selected to meet the demand of high temperature with dust and water ingression characteristics since these professional power tools may work in tough environment.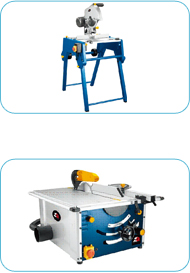 Special challenges such as high speeds, high loads in small design spaces or special environmental conditions have always been motivation for HCH to further develop or redevelop its bearings. We create solutions that secure a competitive advantage for our customers.