Main Clients and markets
HCH Bearing has established wide distributorships in more than 70 countries throughout the world. Asia, Europe, North America, South America, Australia, Africa you can see our customers everywhere.
At the meantime, with good reputation in continuous stable and quality bearings' supplying, HCH aftermarket sales
volume also increased rapidly. Current OEM market takes around 65% of HCH total bearing sales. At the meantime, HCH aftermarket takes around 35%. For the market proportion according to the area, there is around 70% in the international market and 30% in the domestic market.
| | |
| --- | --- |
| Market Division | Sales Division |
| | |
| | |
We have obtained good market reputation by providing satisfactory services to our OEM clients. HCH's bearings are used in wide range of industries. Hundreds of manufacturers of household appliances, electric motors, pumps, gearbox, electric power tools, agriculture machineries, automotive etc., have established relationship with us. Current industry division for HCH sales is as following:
Industry Division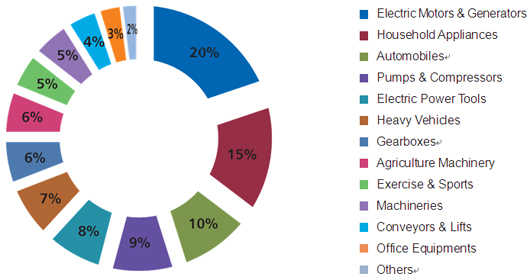 Both end-users and manufacturers expect high-performing bearings that are conformable to current and future legislation. As a world top quality-bearing manufacturer, we use high technology to expand and improve the quality and performance of our bearings; we continually upgrade our manufacturing and use the latest methods in process analysis and design, product design, modeling/simulation, and prototyping and application development. HCH is always improving its bearings to tomorrow's high quality to meet customers' high quality demand. By now, the HCH Group has obtained 7 quality management certificates and over 100 awards for technology and intellectual distribution. This clearly demonstrates HCH's world-class innovation capabilities in product R&D.