Sustainability
Today, Sustainability has become a key political as well as economical guiding principle throughout the world and is widely associated with the efforts to integrate and balance the economic, social and environmental spheres to meet the needs of the present generation without compromising the ability of the future generations to meet their own needs
Our Commitment to Sustainability
At HCH, sustainability isn't just something we care about. It's what drives us. It's our commitment to customers as well as our employees. It's our responsibility to the communities we live in and the planet we live on. As a bearing manufacturer, HCH considers the sustainability footprint of every project while designing, developing and manufacturing bearings. HCH is perceived and acknowledged as economically, socially and ethically responsible.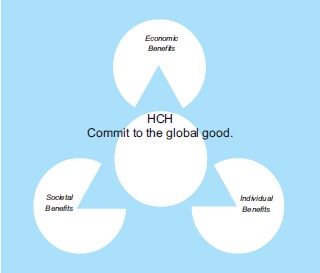 Code of Conduct
Since the foundation in 1973, HCH has been one of the most active forerunners in promoting global operation presence. Compliancing with laws has been implemented as a matter of course in our group both domestically and internationally. HCH, as a corporate citizen, needs to steadily continue to conduct appropriate activities. To this end, specific code of conduc t is essential to enable each director and employee of our group to correctly understand ethical issues, laws and regulations, and social requirements and select appropriate activities at all time.
● HCH Bearing Group has upheld three rules as basic management principles: "Be a company of which employees are proud to be a part", "Gain the trust of customers", "Contribute to the international community". In HCH, compliance is regarded as an important element of business management.
● We have duties to fulfill its social responsibility and improve its corporate value not only by complying with laws and regulations but also, as a corporate citizen, by conducting appropriate and fair business management based on corporate ethics.
● We have clarified that an earnest and serious attitude toward our customers, business partners, employees, government agencies, and the society is a fundamental building block of our business. We have also strived to achieve highly transparent management.
● Our efforts to promote employment and foster human resources have also contributed to local communities. Furthermore, we have fulfilled our social responsibility through environmental protection efforts such as obtainment of RoHS, and active application of ISO14001 for our production sites.
● We declare our commitment to continuously strive to understand corporate ethics and applicable laws, harmonize with society, and achieve sustained improvement of corporate value through fair and appropriate business management by ensuring implementation of HCH Code of Conduct that we have developed.